These strong, stable pushup bars are the perfect addition to your home gym.  The Maximiza Classic 22mm push-up bars suit lighter people with smaller hands so are typically bought by women.
Product Features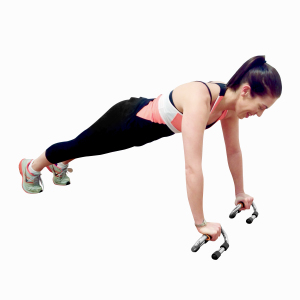 STRONG, STURDY and STABLE – Chrome Steel 22mm (7/8 Inch) bars with no joins, welds or pieces. No assembly required. They do not wobble or slip. Each bar holds up to 220lbs (100kg)

EASY TO USE – Portable, light and perfect for push-ups at home, the office or travel

COMFORTABLE – foam hand pads, stable and non-slip. 2 grip sizes – Classic 22mm typically suits lighter people, women and smaller hands. 

DEEPER MORE INTENSE WORKOUTS – greater range of motion, deeper pushups and more push-up positions for varied muscle use. Great for Crossfit and P90x

PROTECTS WRISTS and REDUCES PAIN – enables you to maintain straight wrists so far less stress on the wrists and joints which means you can do more hand positions and have no wrist pain – so you can do more and better push ups
Buy the Maximiza Classic 22mm Pushup Bars on Amazon.com

'Push Up to Fitness' with the Maximiza Push Up Bars by Garren Fitness
Each box contains one pair of Push Up Stands
Features
Strong, durable chrome steel bars and very stable – have no fear that they'll break, bend or collapse
Classic Bar diameter of 22mm (7/8 inch)
Each Classic bar can hold 220lbs (100kg)
The Classic 22mm bar will suit lighter people or smaller hands (typically women)
No parts, welds or joins – means no assembly required and no parts to break or fall off
They are stable and do not wobble
Light and portable
Comfortable foam grips
Non-slip
Benefits
Strengthen and sculpt shoulders, chest, arms and back
Integrate with any upper body workout program
Reduce stress on wrists
Promotes good form
Maximize your effort with deeper push-ups
Enables varied muscle use with more hand positions
Garren Fitness' 100% Satisfaction Guarantee
If you aren't completed satisfied, please contact us for a full refund – no questions asked.
Buy one of each size and share them with your family or at the office
Buy the Maximiza Classic 22mm Pushup Bars on Amazon.com